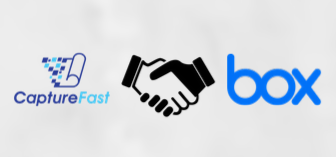 21 Oct

Box and CaptureFast Integration

Nowadays, all companies are in need of adapting their businesses to world's global standards. While the companies are trying to meet the standards, vital elements are speed and convenience. Box, a known cloud content management, takes a further step in reaching high standards and collaborates with CaptureFast.

Box provides its customers with an easy set-up for flexible workflows within a variety of applications. As well as supporting its customers with a cloud management, Box maintains compliance which at the end saves a huge amount of time. In a nutshell, Box provides you with a single place where you can transfer and manage all kinds of documents, contents, devices and services.

CaptureFast and Box integration boosts your business in a way that your company gets the chance to enable regulatory compliance and modernize workflows. With CaptureFast integration, you will be able to utilize metadata which allows you to define and store custom data.

First, CaptureFast jumps in with an automated document capture solution. To give a head start, you need to create a template and verify necessary fields in a document. In CaptureFast application, you need to arrange system preferences and extract information on data. After Box is synchronized with CaptureFast, you are asked to select a file in which you can classify contents and create news templates. Once you described format and description inside the template, you need to specify the file where you keep extractions that you want to process with CaptureFast. Therefore, whenever a document is captured with its information extracted, a metadata is saved which is then directly transferred to Box.
setting up what you need to do in convenient fashion
populating the metadata
managing metadata belongs to a specific document
creating a template in accordance with your needs
arranging different metadata variables
are constituting a variety of functions that you can perform. Automatic integration constantly checks if there are new documents in CaptureFast app and delivers them to specific files.