16 May

Creating Paperless Office In 8 Simple Steps

In this world of digitisation, companies are putting their best foot forward by going paperless not only for environmental responsibilities of saving more trees but also to lower the burden of maintaining records of data and files and wasting time retrieving them.

Companies are taking the help of Enterprise Content Management and Data Management Systems to convert their physical documents into digital files where every line is editable and searchable. It has reduced workload and expenditure and increased efficiency of work and accessibility of any file anywhere.
Here are the steps to create a paperless office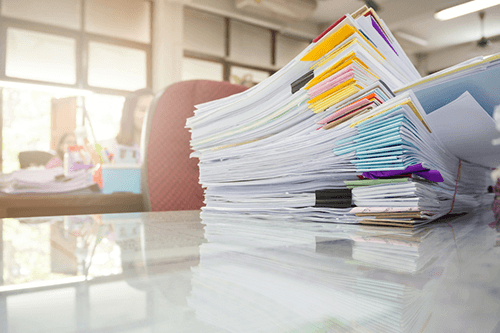 You must install document capture software and start scanning the existing documents like files and bills. You can allocate works to different people to share the overall workload. They can simply use their smartphones to scan documents and send them to document capture software where the scanned documents will be extracted to convert the handwritten or typed text into editable digital text.  Since most of the document management systems are cloud-based, anyone can send any document anytime from anywhere.
Sharing – Instead of printing a paper and sharing it with someone, everyone should share documents digitally from cloud storage platforms like Dropbox, Google Drive and likewise.
Working Together – In a workplace, two or more people have to work on the same document, and they can do so easily with Google Docs. They can work simultaneously, and the files will get saved automatically. There are features to check earlier saved versions of the document and make a comparison.
Encourage Your Clients To Go Paperless – Some of your clients may not be aware of the fact that you are going paperless at your workplace. Therefore, it is your duty to take the initiative to let your clients know about it and bring them on your side to go paperless as well. Encourage them to share important documents through secured email or secured platforms rather than fax. Eventually get rid of your fax number and machine. 
Forms and Surveys – Companies have to conduct surveys and send forms to employees to get feedback. Instead of using OMR sheet, you should use fillable PDF files where people can fill the forms easily without any paperwork. PDFEscape is a nice tool to create such fillable forms. 
Set A Limit and A Fine – You cannot expect your office to become paperless in a matter of few days. It will take time to get adapted to the new way. Therefore, you should set a limit as far as how many papers can one use every month and set a fine for crossing that limit.
Software For Team Management – Managing team works require a lot of paperwork. For example, creating a plan for executing, taking ideas from everyone, allowing team members to give their opinion on everything as they progress all require paperwork. But if you use software, you can go paperless and become efficient. With tools like Evernote, team members can coordinate well, dump their ideas for review and give updates about their progress in work.
No More Physical Contract Signing – With the advancement in technology, digital signatures can be verified to prove the authenticity. Therefore, there is no need of a physical contract or deal signing, and everything can be done digitally. You must encourage your clients and vendors to do the same.
Start creating your own paperless office today with CaptureFast cloud and mobile-based document capture solution. Find out more here.